Helping People in Need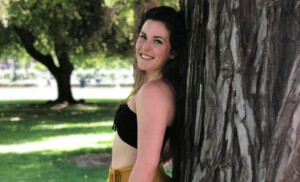 By Eden Gold
Annual spending for mental health disorders reaches the top of the list at $201 billion dollars in 2013. Similarly, suicide is the second leading cause of death amongst college students. As these numbers continue to rise, it is clear that the profound impacts that they have on our daily lives are affecting people younger and younger. Unfortunately, many individuals feel ashamed of their struggles, and as a result, lay in silence as they try to navigate their hardships alone.
We will all face a wide variety of struggles and hardships in our lives. However, every one of us is capable of channeling that energy into something good and being there for others, whether they wear their struggles on their sleeve, or not.
My name is Eden gold. I am a 22-year-old speaker and mental health advocate. When I was 10-years-old, my father went to prison on a life sentence without parole. Similarly, my brother has been addicted to drugs my whole life. Although these are daily struggles I face, from a naked eye, I have been told I am one of the happiest and most caring people when it comes to serving others.
You see, in times of hardships, we have a choice to make. We can be a victim of our circumstances forever, or we can be victorious in the outcome of our lives. Our pasts do not equal our futures, and one of the best ways to uplevel both your mental and physical health is by helping others. According to Psychosomatic Medicine: The Journal of Behavioral Medicine, the benefits of giving out way the benefits of receiving, and being there for others can have a profound impact on your overall health.
Here are 3 simple yet powerful strategies that I use regularly to show up for those around me even in times of my own struggles, that have an immediate positive impact on my health:
1. Starting a Conversation. Start a conversation with a stranger at a coffee shop, or a grocery store. Whether the conversation is in-depth or something to laugh over, talking to somebody is a great gentle reminder to both them and you that we are all human, we all crave connection, and we are most definitely not to be feared.
2. Ask Questions. Whether it's a simple Instagram DM asking somebody how their weekend is going, or a phone call to your mom to check in with her, people truly do like talking about themselves. This is a great way to encourage somebody to open up and release any pent-up negative energy that they needed to get off of their chest.
3. Storytelling. Share a story about a struggle that you've overcome, or a struggle that you are currently facing. The law of conservation of energy states that "Energy can neither be created nor destroyed. It can only be transferred or transformed." This means that although we may feel we can just push our struggles to the back burner and forget about them, we can't. That energy won't die, but rather, it will manifest until the problem forces itself to be heard. Sharing real-life stories with those around you can not only help you release your negative energy but encourage others to do the same as they may feel less alone.
Through practices like these, I have talked others out of ending their lives, and I have seen dramatic shifts in the energy of those around me. I encourage everybody, to consider giving to others, as a means of making this world just a little bit better each day.
Eden Gold
Speaker | Health Coach
www.iamedengold.com
Hello@iamedengold.com
Photo credit: Man giving water – Sarwer e Kainat Welfare